Most people are familiar with grilled cheese. That is, they are familiar with slices of cheese sandwiched between pieces of bread then cooked on a hot pan until melty and toasted meet in a perfected bite of childhood happiness. The grilled cheese sandwich is a classic that appears on menus all over the country, from fast food drive-ins where they come wrapped in paper and served with tiny packets of ketchup, to fancy bistros where they are prepared with a blend of fancy cheeses on housemade artisan breads, and everything in between. Often served alongside a hot bowl of a tomato-based soup, the grilled cheese sandwich is a classic that has been endlessly replicated and tinkered with, deconstructed and perfected, eventually becoming synonymous with American Comfort Food. Yes, the grilled cheese sandwich is a thing of true beauty, simplicity at it's finest.
But when I talk about grilled cheese, I am not talking about a sandwich. I am talking about cheese that has been grilled. I am talking about the wonder that is Halloumi.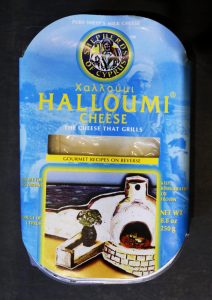 Halloumi is a cheese like no other. It is a brined Greek cheese that comes in a large block or cubes, similar to feta or paneer. But the beautiful thing about Halloumi is it's super high melting point. Eaten raw, it leaves a lot to be desired. It's not bad, but it's nothing to write home–or a blog post, as the case may be– about. It breaks apart, but I wouldn't call it crumbly. It has an almost rubbery quality to it that is reminiscent of cheese curds, but I wouldn't call it squeaky. It's layered, but nothing like Mozzarella. It just kind of… is. I'll put it this way: Typically when using cheese in a recipe, I have to grate/cube/prep extra, or I risk having to little because Mr. Loves Food will swipe bites off of the cutting board until I am half convinced I am living with a mouse. Raw Halloumi, however, stays where I leave it. Once it's cooked, though, with its outside hardened into a cheese crust and its inside threatening to spurt its nearly melted contents, it disappears like magic. Which makes sense, because the stuff is magical.
There are many ways to eat Halloumi, the most popular being grilled. Wedges can be thrown directly into a pan or on the grill and served with endless combinations of vegetables and meats. It's a beautiful salad topping when dressed with lemon juice.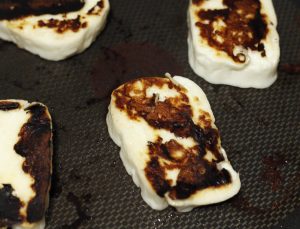 During stone fruit season I like to serve it as a kebob with peach or nectarine slices, sprinkled with fresh mint. It can even be seared and then tossed in Indian curry as an alternative to paneer.
Since it holds its shape so well, it works perfectly as a meatless protein, especially when crosshatched grill marks are visible and giving a new meaning to words "cheese steak." This is why I thought it might make for an interesting pizza topping, and I was so right. Coupled with a sourdough crust, this pizza is a perfect marriage of chewy, salty and tangy. If you've never cooked with Halloumi, this recipe is an easy way to try it for the first time. If you have cooked with it, you've probably stopped reading, jumped to the recipe and put the ingredients on your shopping list. And, speaking of ingredients: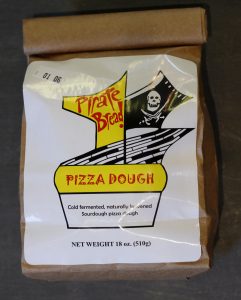 Good pizza starts with the crust. In this case, it's gotta be sourdough. The sour tang grounds everything, preventing it from tasting too salty. If you've had any of the Pirate Bread breads, you know how amazing this local company's products are. In my oh-so-humble opinion, their pizza dough is the crowning glory of the lineup! I have a sourdough starter that I diligently keep fed, and I'm oddly proud of it. I used to use it to start the multiple day process of making sourdough pizza dough, because good food really is worth the effort. Then I tried the Pirate Bread Pizza Dough, and haven't wasted my time since. It's as good as homemade. Honestly, it's probably better than my homemade. It's definitely a lot more predictable, and it doesn't require as much planning. It's currently available in the perishables cooler near the cheeses, where you'll be to grab the Halloumi and mozzarella anyway!
And with that, onto the recipe. Since this entree is all about big, bold flavors, I recommend serving it with a nice Greek salad with a light lemon vinaigrette, and a wine that won't fight it (Pinot Gris for white wine lovers, Noir for red). I hope you enjoy this pizza as much as we did in the Loves Food house, and that you start thinking beyond the sandwich when you hear the phrase "grilled cheese!"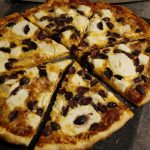 Remove pizza dough from packaging and set aside until ready to use (at least 20 minutes). Preheat oven to 450°F.
Heat olive oil in a saucepan over medium heat. Add tomato paste and stir gently, being careful of hot splatters! Cook for a minute, then add Italian seasoning, pepper flakes, and salt & pepper. Cook for another minute. Mix crushed garlic with a splash of water; add to the pan. Continue cooking, stirring as necessary, until mixture is thick and fragrant. Stir in the wine, then the water. Cook until spreadable viscosity is reached, adding more water if needed, then add dill and remove from heat. Set aside and let cool.
On a floured surface, roll pizza dough to desired thickness. Transfer to pan/ peel, and bake for 1 minute. Remove from oven and flip, so the bottom is now the top.

Spread sauce over the par-baked crust, and sprinkle with shredded cheese, then olives, then Halloumi cubes. Brush cubes with a little olive oil.

Bake pizza for 6-8 minutes, rotating halfway through, until edges are puffed and the bottom is starting to turn golden. Turn oven to broil and cook pizza for another 1-3 minutes, watching for burning.

Remove pizza from oven and let sit on a cutting board for a minute, then sprinkle with oregano. Slice, serve, savor!