Not to sound like too much of a cliche, but I can't believe this year is almost over! It's been one that I can't imagine looking back on all too fondly, but am also scared to see go. Fingers crossed that I won't ever say, "If only we could go back to 2016, it was such a better time!" To prevent that, I need luck. What better way to make some than to cook up a big batch of Hoppin' John– a smoky dish of black-eyed peas and rice– this New Year's?
I wanted to put together an informative post about the history of eating black-eyed peas on New Year's that would leave you all dazzled with my ability to educate in such an entertaining way. "Tell us more, Lili!" you'd cry as I took you on a tour from ancient Egypt to the Civil War South and ended with a champagne toast at the stroke of midnight in modern day Portland. Unfortunately, after reading all I could on the subject, I'm stuck dazzling with my abilities in the kitchen (right?!?) rather than the classroom, and you're left wanting more because I didn't tell you anything. The nutshell version is that eating black-eyed peas, greens and cornbread– representing coin, cash and gold, respectively– on New Year's Day is meant to bring luck and prosperity in the year to come. I'm always willing to do what I can to up my chances of health and happiness– especially if it involves delicious, nutritious, inexpensive food– so Hoppin' John is a staple New Year's Day dish in my kitchen, along with countless others across the country. And fortunately the good people over at Serious Eats put together a post on why we do this. If you have any interest in food, history and/or the sources of traditions, I highly recommend giving it a read! I'll wait here.
The Historic Problem with Hoppin' John
Welcome back! Super interesting, right? I cannot agree more about the ingredients making such a massive difference in how a dish turns out. Anyone who read my ROTW post last week knows I firmly believe that in order to achieve the best, you have to start with the best! If you do a Google search for "Hoppin' John Recipes," you will find pages of results that call for tinned peas and pre-cooked white rice, maybe a can of Rotel. That creates something that would be all but unrecognizable as the source dish. It's definitely not something I personally would want to eat! I want something that at least resembles what my farmer ancestors might have consumed (just maybe with a few less weevils). As the linked article discusses, one issue that arises when trying to recreate old recipes is that our food is simply not the same as it used to be. So much food has been hybridized, stripped of nutrients and fortified, bred for appearance and durability rather than flavor, etc. etc. But those of us who buy our groceries at Alberta Co-op can make a real meal out of real ingredients that would make my grannies proud!
Organic Black-Eyed Peas are currently a Co-op Deal, at just $2.29/lb! I like to buy 1C increments of things like this, because it can be hard to find a use for, say, 1/3C beans. There are measuring cups available for use in the Bulk department for this very purpose.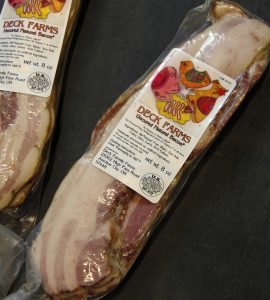 Traditional Hoppin' John recipes call for simmering the black-eyed peas with a smoked ham hock. To capture some of that flavor and "mouth feel," I recommend using the Uncured Natural Bacon from Deck Farms. It's cut thicker than most, and just look at those stripes of fat! That's flavor, right there. That's REAL bacon.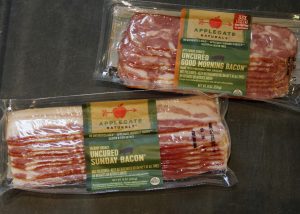 Another good option for the budget-conscious would be using the Applegate Naturals Sunday Bacon or Good Morning Pork Bacon, which are currently Co-op Deals at $3.99 and $3.49 respectively. If given the choice I'd personally go with the Deck Farms, but the Applegate would also give great results, and that price can't be beat.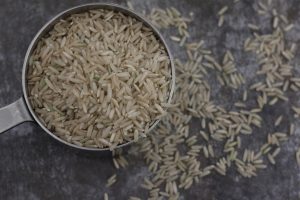 For rice, go with long grain brown (available in Bulk). It has a nutty flavor that shines through in simple recipes like this, and it holds up to long cooking times. It has flavor, structure and nutritional value that has been stripped from white varieties. Because it takes longer to cook, I like to prepare large batches and freeze the extra in 2-serving portions for quick and easy meal prep.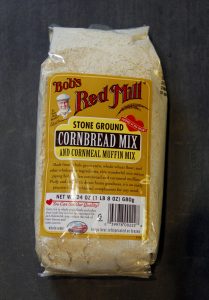 Speaking of quick and easy meal prep, I always keep a bag of Bob's Red Mill Cornbread Mix in my pantry. It's moist and crumbly, tastes as good as "from-scratch," and contains zero creepy ingredients! It's available in the Baking area of the Grocery department.
Now onto the recipes! I'm sharing two today, one being a more "traditional" version, and one suitable for vegetarians. Whichever one you go with, make sure to serve it with fresh cornbread (Bob's Red Mill mix or homemade) and collard greens. Here's wishing you a safe, healthy, happy and LUCKY New Year!
Wash and sort the peas. Place them in a saucepan, add the water, and discard any peas that float. Gently boil the peas with the pepper, bay leaf, bacon, onion, and liquid smoke, uncovered, until tender but not mushy — about 1 1/2 hours — or until 2 cups of liquid remain. Stir in tomatoes.

Add the rice to the pot, cover, and simmer over low heat for about 25 (white rice) to 45 (brown rice) minutes, never lifting the lid.

Remove from the heat and allow to steam, still covered, for another 10 minutes. Remove the cover, fluff with a fork, and season with salt and pepper to taste. Serve immediately with greens, cornbread and hot sauce.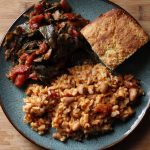 Cook Time

Passive Time

1.5

hours

4

hours
Cook Time

Passive Time

1.5

hours

4

hours
Cook Time

Passive Time

1.5

hours

4

hours

Cook Time

Passive Time

1.5

hours

4

hours
Wash the peas in a strainer, and soak them for 4 hours in ample fresh water.

When peas are ready, heat olive oil over medium-high heat in a 4-quart pot; add onion, and cook until softened, about 5 minutes. Add salt, red pepper, black pepper, smoked paprika, bay leaf, and liquid smoke, and cook, stirring for about 30 seconds. Add water/broth and bring to a boil.

Let mixture boil 10 minutes, and then add peas. Maintain a low boil, uncovered, until peas are nearly tender, about 25 minutes. Add tomatoes to pot. Add rice, reduce heat to low and simmer, covered, 30-50 minutes (depending on rice used). If using brown rice, you may need to add an additional cup or so of liquid during this time.

Turn off flame, and allow Hoppin' John to steam in pot, lid on, for 5 minutes. Fluff Hoppin' John and serve with greens, cornbread and hot sauce.
This is my favorite cornbread recipe!
Recipe updated 1/3/17. Prior ingredient list called for 1C black-eyed peas and 1.5C rice. The new quantities make for a better BEP:rice ratio.