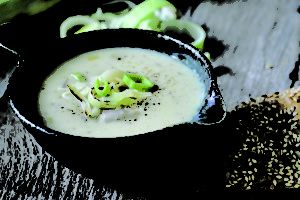 Recipe borrowed with permission from www.strongertogether.coop
This sweet and savory dish with accents of pecan and goat cheese is a lovely accompaniment for pork or poultry. Add leftover turkey or chorizo to make a hash for breakfast or a quick and tasty supper.
A combination of melty mozzarella, sturdy Halloumi and salty olives on sourdough crust make this pizza worth skipping the takeout shop and staying in for! Serve with a Greek salad and a bottle of red wine for a simple yet satisfying dinner.