So I don't know if you guys have noticed, but Portland is covered in snow! What better breakfast can a person have before heading out to brave the elements than a hot bowl of porridge? In this case, it's an amaranth porridge topped with spicy stewed apple and pear and some toasted pecans. An optional egg can be tempered in for extra sustenance, which also lends a creamier texture to the whole dish. It is pretty freakin' amazing.
For years I did porridge wrong. I'd always heard that a big bowl for breakfast was guaranteed to keep a person satiated and energized until lunchtime. Since I loved the stuff, I dutifully cooked up a week's worth of steel-cut oats on Sundays and portioned it into single servings for quick and healthy "heat and serve" breakfasts on busy mornings. I'd top my warm oats with a splash of milk, a little maple syrup or brown sugar, maybe a sprinkling of chopped nuts and dried fruits and eat up. Within 45 minutes I'd be ravenous! I didn't understand. With all that fiber, shouldn't I be full for hours? Or at least content, and not ready to eat Mr. Loves Food's arm to make the hunger stop? I all but gave up on my beloved morning porridge, and began eating it more as a treat than a meal.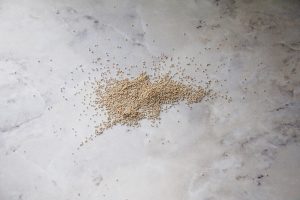 But then I found the answer. I eventually learned that the cure for my pangs was protein. Wearily, I began tempering eggs into my oats, and topping with a handful of nuts instead of a sprinkle. I'd still pack a Larabar to relieve the symptoms of hypoglycemia I was sure would hit within the hour, but amazingly I didn't need them. The protein worked! I'd get to lunchtime without so much as a snack urge. I finally *got* oatmeal! I fell in love all over again, this time not because of how it tasted, but because of how it made me feel. I even started ordering bowls when eating breakfast out, with some yogurt and a poached egg on the side to keep me from crashing. Then I began experimenting with other grains, cooking them with the oats to mix up the flavor and textures and add an extra nutritional punch. Eventually I started sometimes omitting the oats all together, instead making large batches of other porridges, with amaranth being one of my favorites.
Amaranth is technically a seed, making it a "pseudo-cereal." Because of how it's used, though, it fits into the "whole grain" family. It's a naturally gluten free nutritional powerhouse, full of protein, calcium, B vitamins, iron, magnesium, and even lysine. It makes a great alternative to grits, and can even be popped like popcorn! It also happens to be a Co-op Basic at ACG, so grab some from the Bulk department and try it for breakfast, or stirred into a winter vegetable soup.
Fuji apples are on special this week at $0.99/lb. Any apple could be used in this recipe (I've used Opals with great success), but the texture and flavor of Fuji works best, IMHO.
As far as pears, use whatever you'd like. Asian would be interesting! I personally love Bosc, but it's all a matter of preference.
The Ginger People's Organic Ginger Juice is one of those products I can't remember surviving without. It works in place of fresh ginger root in any recipe, but without the peeling and grating. Best of all. it doesn't dry into a chunk of mummified gnome toe when you forget about it. I am currently drinking a tea made by adding a glug of it to a mug of hot water and squeeze of lemon. It's on the top shelf in the "sauce" area of the Grocery aisle.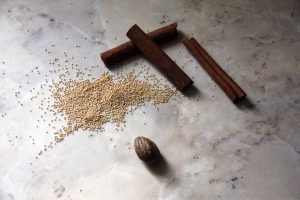 Make sure to use freshly grated whole nutmeg in the stewed apple and pear! It makes such a difference that I don't bother with the pre-ground stuff anymore. It's sold in the Bulk Herb department, so pick one up and see what I mean. Then go back for more when you realize how right I am.
Well I'm off to build a snowman, complete with a red heirloom carrot nose, of course. Stay warm, stay safe and stay nourished out there!
Cook the amaranth: bring water and milk to a boil. Add amaranth and butter and return boil. Reduce heat, cover and simmer for 20 minutes, or until the amaranth has come together and resembles porridge. You may add additional water throughout the process, as amaranth will continue to "soak" it up.

In a separate saucepan, combine diced apples and pears with maple syrup, ginger juice, cinnamon sticks, vanilla bean and scrapings, and nutmeg, and cook until softened (about 10-15 minutes).

Meanwhile, heat a cast iron pan over medium heat. Add the pecans and toast, stirring, until they are fragrant but not overly browned. Remove from pan and set aside.

OPTIONAL EGG TEMPERING: Beat eggs in a (regular,"cereal" size) bowl. When the amaranth is finished cooking, add a good size scoop to the eggs and whip frantically with a fork. Add this back into the pot and stir well to incorporate into the rest of the porridge.

Divide the porridge between 4 bowls. Remove the cinnamon sticks and vanilla bean from the apple & pear mixture, and top the amaranth with it. Sprinkle with the pecans. Eat!