A combination of melty mozzarella, sturdy Halloumi and salty olives on sourdough crust make this pizza worth skipping the takeout shop and staying in for! Serve with a Greek salad and a bottle of red wine for a simple yet satisfying dinner.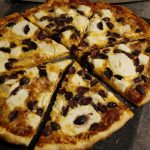 Remove pizza dough from packaging and set aside until ready to use (at least 20 minutes). Preheat oven to 450°F.
Heat olive oil in a saucepan over medium heat. Add tomato paste and stir gently, being careful of hot splatters! Cook for a minute, then add Italian seasoning, pepper flakes, and salt & pepper. Cook for another minute. Mix crushed garlic with a splash of water; add to the pan. Continue cooking, stirring as necessary, until mixture is thick and fragrant. Stir in the wine, then the water. Cook until spreadable viscosity is reached, adding more water if needed, then add dill and remove from heat. Set aside and let cool.
On a floured surface, roll pizza dough to desired thickness. Transfer to pan/ peel, and bake for 1 minute. Remove from oven and flip, so the bottom is now the top.

Spread sauce over the par-baked crust, and sprinkle with shredded cheese, then olives, then Halloumi cubes. Brush cubes with a little olive oil.

Bake pizza for 6-8 minutes, rotating halfway through, until edges are puffed and the bottom is starting to turn golden. Turn oven to broil and cook pizza for another 1-3 minutes, watching for burning.

Remove pizza from oven and let sit on a cutting board for a minute, then sprinkle with oregano. Slice, serve, savor!