Greetings from my kitchen! I'm Lili, and as some of you may be aware, every Wednesday I post a Recipe of the Week on this web page. This week in addition to sharing it, I wanted to get a little bit into the why of my chosen recipe. Today it's a green chile egg casserole, that's sort of like a cross between a souffle (which eagle eyed readers will know I am a fan of!) and a potato crusted quiche.
A lot of holiday traditions in my family revolve around food. Locations can change, we can stop exchanging gifts, we can be together only through the wonder of technology because no one feels up to traveling, but no one will ever dare suggest we don't eat Dungeness crab for Christmas dinner!
This casserole is a version of one of those traditions. Mr. Loves Food and I rotate family obligations every year, and on the Christmases we spend at our own home, I always make a Chili Relleno breakfast casserole, served with finally seasonal citrus fruit salad and Mezcal Palomas.
I've tweaked the recipe over the years, and found that the secret to the best, most tradition-worthy version of this casserole is using the best ingredients I can get my hands on. Thanks to ACG, I have achieved perfection!
First and foremost, use good eggs. Where I always encourage going for high quality eggs from happy, pastured hens, it is especially vital in egg based dishes like this one. They are the foundation of the whole meal, so don't skimp! I recommend the ones from Deck Family Farm, which are available individually in the perishables department.
Next up is the cheese. I used to use a combination of Oaxacan and pepper jack, until I discovered Don Froylan Queso Botanaro. It is like the former cheeses had a baby, and that baby is delicious. It creates sturdy melted pockets of yum that I can't begin to describe in adult language, because it's so good it makes me dumb. On top of that it provides a perfect heat, eliminating the need for excess seasoning. It also makes the World's. Best. Nachos. It's conveniently located near the eggs in the perishables cooler, so you'll be right there anyway!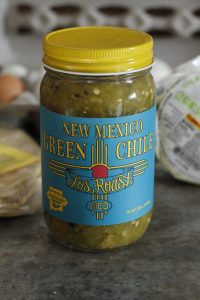 And now come the chiles. My parents-in-law live in the mountains of New Mexico, and every year have a box of Hatch peppers sent to me when the season starts. As a result, I'm a bit of a snob. I don't mess around with those limp, tinned, green flecks sold in little cans. Fortunately, I live in Portland and have access to Los Roast products! Their 16oz jars of New Mexico Green Chiles are as good in this dish as the ones I roast fresh, with the added bonus of not having to peel or chop anything (and then inevitably touch my eye with a spicy finger). They come in Mild, Medium and Hot levels of spiciness, so you can use the one that best suits your diners' preferences! They are located in the grocery department, below the hot sauces.
Finally, let's talk about Three Sisters Nixtamal. They prove that not all tortillas are created equal. These are the vehicle on which this casserole is transported to your (very grateful) taste buds, so again, skimping is not an option! These tortillas steam beautifully without falling apart, and add an extra burst of flavor with each bite. These are also in the perishables cooler, making shopping for this recipe a breeze, right?!?
Anyway, I hope you try and enjoy my little bit of tradition, made with some seriously good local ingredients. Thanks for reading, and happy eating!
Preheat oven to 400°F. Grease a baking dish with butter. Press thawed hash browns into pan, and dot with butter. Bake for 20-25 minutes, until crisping but not browned.

Break Queso Botanero apart with your hands, crumbling as well as possible.Set half aside. Combine other half with the eggs, green chiles, cottage cheese, flour, baking powder, salt, cumin, and black pepper. Mix until thoroughly combined.

Rub butter on inner sides of the baking dish, then pour the egg mixture on top of hash brown crust. Top with the reserved half package of cheese.

Bake for 15 minutes. Reduce heat to 350°F and bake for another 60-75 minutes, or until the middle of the casserole is set. Remove from oven and let rest for 10 minutes before serving.

Meanwhile, wrap tortillas in a clean dish towel and steam until hot and pliable. The steamer insert of a rice cooker Is perfect for this!

Slice casserole into wedges. Serve with the tortillas and some cilantro, Nancy's sour cream and Eli's salsa.
This can be made without the potato crust, if preferred. Simply preheat the baking dish in the hot oven, grease with butter before adding egg mixture, and proceed as instructed.
I do not recommend subbing other brands for the recommended ones. The easiest way to achieve a good result when cooking is to start with the highest quality ingredients!