adapted from Keep It Simple Foods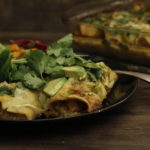 In a mixing bowl, combine black beans, about 2/3 of the chilies, garlic, and about 2/3 of the onions. Add a handful of the cilantro, the lime zest & juice, cumin, onion powder, salt, cinnamon, chili powder, sour cream, and 2/3 of the cheese. Mix well.

Steam the tortillas using your favorite method until they are pliable enough to not break when folded. Splash a little of the enchilada sauce into a "lasagna size" baking pan (just enough to coat the bottom). Spoon the filling into the tortillas, rolling each one and placing it into the dish as you go.

Pour the remaining sauce evenly over the top. Sprinkle with remaining cheese, onions and chilies, and the jalapeno slices.

Bake for 20-25 minutes, until cheese is melted and tortilla edges look crispy and brown. Serve topped with remaining cilantro and some avocado slices.