This week we have an extra-special recipe to share with you, inspired by the coming weekends Sports Ball! Since I am all about LOCAL and Portland doesn't have a pointy-ball team, I am of course talking about the two Trail Blazers games, on Friday and Sunday at 7:30pm and 12:00pm respectively. What makes this recipe extra-special?  For one, it was a brainstorm collaboration between members of multiple departments in the store. We're real team players! Second, it is a crowd pleaser, making it perfect for feeding large groups of guests. Third, in the spirit of keeping it local, we worked in as many Oregon-based products as we could. Finally, the Grocery department put nearly every ingredient on sale to make it extra easy for you all to make! So without further ado, I give you our Rip City Beer & Cheddar Soup: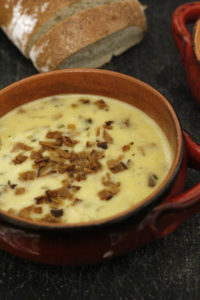 Just like how popcorn goes with movies, there are foods that go with sports. Some obvious examples are jalapenos, melty cheese, and, of course, beer. This recipe combines all those elements in a slightly spicy, perfectly smoky, super bowl of soup (sorry, too easy). Serve it with chips, either crumbled and sprinkled on top or used as edible "spoons," and you'll be incorporating yet another classic game food! I was genuinely surprised by just how good this tasted. We aren't big beer people in my house (I think it's because my dad has a brewhouse, and thus my form of rebellion is being a wine drinker, but that's a whole different post). I was a little worried that because of this the lager flavor might be a bit off putting. Fortunately, it was anything but. The different elements play off one another in a way that I can only describe as perfect. This recipe needs no doctoring, which is rare for me. I didn't need to sprinkle on any extra salt, turned down the pepper grinder, and even passed on the hot sauce. It's a tweaked version of a recipe I found at Food & Wine, which has whopping 5/5 stars from 1,995 ratings. That is pretty much unheard of. This soup may be the only instance of that many people on the internet agreeing on something. It is THAT GOOD.
This recipe obviously starts with beer. In fact, the brainstorming for sharing this recipe began over a couple of beers (well, technically a beer and a whiskey, see above). Somehow the topic of cheese making everything better had come up, and my coworker questioned whether it was true for beer, gesturing to the one in her hand. I immediately said (shouted) "BEER CHEESE SOUP!" We immediately agreed that this recipe needed to be featured, and that Pyramid Brewing's 1977 Lager would be the perfect base for it. It just so happens that it has been marked down from $3.99 to $2.99 for a 22oz bottle, which is 10oz more than what this recipe requires, so you get a bonus glass to drink while you cook!
It wouldn't be a Rip City soup without the cheese! Or the cheeses, in this case. To keep things extra easy, I started with a 6oz bag of Shredded Sharp Cheddar from Organic Valley, marked down to $3.99 (regularly $5.49). Then I incorporated a block of Smoked Cheddar from Willamette Valley Cheese Co., which I believe is why this soup is so freaking good. You could use any of their smoked cheeses in this recipe, like the Smoked Garlic Cheddar above! Whatever you choose will be a great deal, as all varieties of their aged cheddar are on special for $18.99/lb. (reg $23.99/lb.)!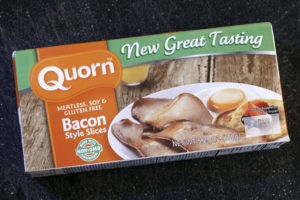 Since I don't eat pork, I adapted the recipe to use Quorn "Bacon Style Slices." These are my personal favorite in the world of Fake-on. I love the flavor and texture so much that I nagged the frozen foods buyer until they finally brought them into the store. They are on sale for just $3.99/box (reg $5.29), so grab a box and see why.
If you do eat pork, we've got Applegate Sunday Bacon on sale, too. An 8oz package is $4.99 (reg $5.99). If you go this route, omit the initial 2T of butter from the recipe. Instead, cook the bacon first and set it aside, and cook the chopped veg in the resulting drippings.
Other ingredients on special are 1lb bricks of Mother's Organic Unsalted Butter for $4.99 (reg $5.99) and half pints of Sunshine Whipping Cream for $1.69 (reg $1.99). And to top it all off (literally if you crumble them on your bowl of soup), we've got Kettle Cheddar Beer Potato Chips 5 oz bags marked down to 3/$5, regularly $2.99/ea.
And there you have it, our Special Edition Rip City Beer & Cheddar Soup. It's easy to make a day ahead of time, which is a lifesaver when entertaining large groups: simply store it in the fridge, then reheat, thinning with a little more broth if needed, when ready to serve. If you put your food out buffet-style, use a slow cooker set on Low to keep it warm! And though this is a basketball-themed soup, I'm sure it would be just as tasty when eaten during any sporting event. Like soccer.
In a heavy saucepan over medium heat, melt 2T of the butter. Add the celery, onion, jalapeno, garlic and thyme and cook, stirring often, until softened (around 8 minutes). Add half the lager and cook until reduced by half (about 5 minutes). Add the broth. Use an immersion blender to smooth out the soup a little, leaving some chunkiness in tact. Bring to a simmer.

In a small skillet over medium-low heat, melt the remaining 1/4C butter. Add the flour and cook, stirring, until lightly browned (about 2 minutes). Whisk this roux into the soup until incorporated, and bring to a simmer. Cook until thickened (about 8 minutes). Add the cream, cheeses and remaining lager and simmer, stirring occasionally, until thick and creamy (about 5 more minutes). Season with salt & pepper to taste. If the soup is too thick, add a little more broth.

Cook Quorn Bacon Style Slices following package instructions, until very crispy but not burned. Chop coarsley.

Ladle soup into 6 bowls and top with chopped "bacon." Serve with a chunk of baguette or garlic toasts, or top with crumbled potato chips, or even popcorn!