Did you know that February is Heart Health Awareness month? As a sucker for themes, I couldn't pass up the opportunity to make a Recipe of the Week based on this. According to Healthfinder.gov, the number one thing a person can do to maintain heart health is eat well. ACG conveniently started carrying Organic Valley Egg Whites recently (in the dairy case), so I started with them as a low cholesterol, high protein base.
Then I added some whole grain fiber goodness of rice, which may help improve blood cholesterol levels and lower the risk of heart disease. I opted for the Lundberg Wild Blend Rice, available in the Grocery department.
Leeks are a surprising weapon in the fight for cardiovascular health, and delicious to boot. Eastern Medicine has utilized the health benefits of mushrooms for centuries, so in they go as well. Thyme is there for flavor, because it is the best herb out there, especially with mushrooms, don't try to argue me on this, I'm right.
Blue Cheese is an obvious compliment to mushrooms, and also has such a strong flavor that a small amount can produce big results. There is a Co-op Deals coupon for $1 off any carton of Organic Valley cheese this month, so that's what I used.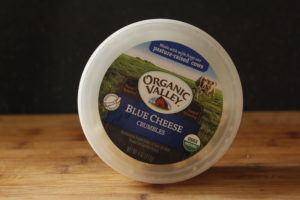 Combine these ingredients and you've got a quick, easy, heart-healthy meal that works at any time of day! Served warm or at room temperature, it's a perfect packable lunch with some spicy greens, such as arugula and/or radicchio, topped with a lemon vinaigrette (bonus points if it's made with an Omega-3 rich oil such as flax seed). For dessert (or an afternoon snack), head to the produce department and grab some antioxidant rich Red Globe Grapes, on special for just $2.99/lb this week. With hearts being the international symbol of love, it's only fair that we show some to our own, right? Enjoy!
Heat oven to 350°F. Heat a 9" cast iron skillet over medium heat. Add butter and oil and cook until bubbling. Add leek and sauté until it begins to soften, about 4 minutes. Add mushrooms and cook 5 minutes or so more. Add thyme, salt and pepper, and cook for an additional minute. Stir in rice blend.

In a mixing bowl, whisk egg whites and half of the blue cheese. Add to the skillet and cook for about a minute more, using a rubber spatula to pull the edges away from the sides of the pan and tilting, to evenly distribute the egg whites. Sprinkle remaining blue cheese over the top of the frittata.

Transfer to the oven and bake until the center of the frittata is firm (shake the pan gently to test for jiggles) and filly cooked, about 7 minutes. Serve warm or at room temperature.