You know that feeling when you just need a salad? When you go to a pizza shop and the Caesar sounds better than a slice? Yeah, that feeling hit me hard last week. I wanted roughage, and I wanted it bad. As I stood in the produce department, though, I froze. I could not for the life of me figure out what to make my salad out of. The city was wet and had yet to thaw, and that made the idea of a cold bowl of vegetable-topped lettuce sound unappealing. After months of winter squashes and root vegetables, they didn't sound very exciting either. I wanted something different, something beyond the roasted beets and vinaigrette. I needed that salad, though, so beets and vinaigrette would have to do. But then, out of the corner of my eye I glanced the citrus display, with all its ripe and colorful glory, and it was as if the clouds had parted. That was it! That was my salad! I needed the brightness of fresh oranges and limes to kick the chill right outta me. I needed ginger and garlic for extra warmth, shredded cabbage and matchstick carrots for crunch, plenty of cilantro to remind me Spring is not too far away, and a bed of buckwheat soba noodles to ground and bring everything together. I needed this salad, and I needed it fast. Fortunately for me, it is as simple as it is delicious, so soon enough I was eating one of the best dishes I've had in months. And in case my name doesn't make it clear, I eat a whole lot of tasty food.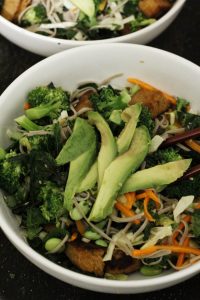 This recipe can easily be adapted into a "kitchen sink" meal, one where you work with what's in your pantry and crisper. Have half a red cabbage hanging out in your fridge? Use that in place of the green. Instead of lacinato kale, why not try purple? Or maybe take advantage of rainbow chard being on special for $1.49/bunch and use that! The broccoli could be omitted in favor of broccolini, which is $2.99/bunch this week.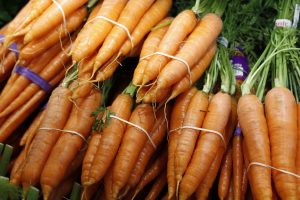 Bunched carrots are on special for $1.99, but any crunchy root vegetable would be great in here; toss in some turnip, or maybe celeriac. Radish would give a nice bite, and red bell pepper (on special for $1.99/lb) would be a perfect addition.
As I mentioned above, this salad starts with a bed of Japanese soba noodles. Traditionally made from buckwheat, they have a nutty flavor and a big dose of nutrients. They are amazing in cold and warm dishes alike, and can be purchased in the Grocery aisle in the Asian food area. Or, if you're feeling adventurous, try making your own!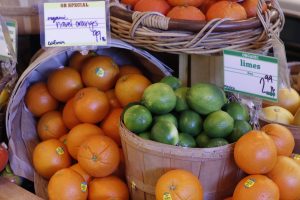 There is something so amazing about Winter citrus. How great is it that at the time of year when the days are the shortest, when we have so many hours of darkness, these bright fruits are at their peak? Though this recipe could be made with tinned juices, It's worth the extra bit of effort to squeeze your own. With navel oranges at just $.99/lb, why not?
Also on sale this week are Wildwood Organic tofu (in the Perishables cooler), Seapoint shelled edamame (in the Frozen department) and bacon avocados. Put them all together and you've got a satisfying salad that easily works as meal, and is even better the next day! Seriously, when I had my leftovers for lunch, the flavors had intensified and made the already incredible dish THAT much better. And it was crazy good to start with, so that's saying a lot. Enjoy!
Preheat the oven to 350 degrees Fahrenheit. In a bowl mix together orange juice, tamari, sesame oil, olive oil, ginger, garlic, maple syrup, and cayenne and set aside. Cut the tofu into 1-inch cubes and place into a small baking pan without overlapping. Pour the marinade over the tofu. Put the tofu into the oven and bake for 15 minutes, stir, and bake for 15 minutes more until browned. With a slotted spoon, scoop out the tofu and place onto a plate and allow to cool. Pour the remaining marinade into a bowl and set aside.
Add the lime zest and juice to the remaining marinade. Continue to add the orange juice, rice vinegar, and sea salt to taste. Set aside.
Cook the soba noodles as described on the package, rinse with cold water and set aside. Meanwhile, bring a small pot of water to a boil, and add edamame. Cook for 2 minutes, then add the broccoli and blanch for 30 seconds. Immediately strain and rinse with cold water. Put the noodles, blanched broccoli florets, carrot, kale, cabbage, cilantro, basil, and sesame seeds into a large bowl and toss. Dress the salad with the Thai citrus vinaigrette.

Serve the salad topped with baked tofu and garnished with sesame seeds.
This is especially good if you use this method of cooking the tofu!