It's been a long week. It's been a cold week. It's been a week where all I want is cozy. For a lot of people, myself included, that coziness comes from yummy, carb-y foods. And so I bring you this baked sweet potato, doused in Red Blanket Sauce. As the sauce name implies, this dish is comfort on a plate.
The sauce is good enough to drink by the cupful. It's a velvety blend of flavors that I just can't seem to get enough of. A little spicy, a tad smoky, a lot yummy, it's not only good on everything but good for us, too! This is a meal so good it doesn't require a lot of explanation, and there's not much I can say beyond try it. So put on some comfy sweats and let's get cooking.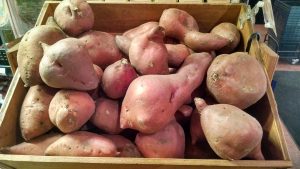 It just so happens that Garnet Yams are on special for just $1.49/lb this week. I can't think of anything more comforting than a big baked yam, the centerpiece of this week's recipe. So pick up 4 and get baking! You won't be sorry.
Preheat oven to 400°F. Prick sweet potatoes a few times with a fork. Place on a baking sheet in the oven and roast for 30-45 minutes, depending on the size of the potato. You will know it's done when a knife can easily pierce the skin and the center is soft.

Remove sweet potatoes from oven and slice each one down the center, almost through to the bottom. Open up to reveal its orange flesh.

Stuff the sweet potato with black beans and top it with avocado, and anything else you'd like. Pour Red Blanket Sauce over the top. Serve and enjoy.
In a medium saucepan over medium heat, melt oil and add all spices. Cook, stirring frequently, until fragrant, about a minute. Add onions, a couple pinches of salt and cook until softened, about 5 minutes. Add garlic and cook another couple minutes. If the pot gets dry at any point, add a little of the tomato juice from the can.

Pour canned tomatoes into the pot and cook for 5 minutes. Season to taste.

Carefully transfer the tomato mixture to a blender. Add pitted dates, cacao powder, nut butter, lime juice and a couple tablespoons of the water. Blend on high, adding water to thin as needed, until desired consistency is reached. Season to taste.

Serve. Store leftovers in the fridge for up to one week.
Shared deliciously from My New Roots