A super simplified version of a classic. This recipe makes a wonderful brunch for a crowd, or a lovely light dinner when served with a green salad.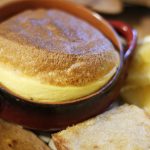 Preheat oven to 375°F. Grease 2 ramekins with butter or spray oil.

In a medium bowl, beat egg yolks with milk and flour. Mix in cheese. Set aside.

In a separate bowl, whip egg whites until stiff peaks form. Fold into egg yolk mixture, and divide between ramekins.

Bake for 30 minutes, until high and fluffy. Grab picture BEFORE they deflate. Or just eat and enjoy!
To make ahead, combine the egg yolk mixture the day before cooking. Cover. Put egg whites in an airtight container and store everything in the fridge. Whip and fold in egg whites just before baking.
This recipe is easily doubled/tripled/etc.
Mix in fresh herbs to highlight other meal flavors. Try adding 1/3C chopped garlic chives, use cream cheese and serve with a cold smoked salmon plate!
For a mini corn pudding, replace flour with cornmeal and add an extra tablespoon, use sharp cheddar, and add 1/2C corn kernels. Use 1 larger ramekin and bake an additional 5 minutes.