Confession: this week's recipe, though awesome, is not new to the ACG website. I posted it last October, but never featured it as Recipe of the Week. Since cauliflower is on sale for $1.69/lb this week, I thought it was a perfect opportunity to give this incredible side dish it's well-deserved moment to shine. It calls for a couple other recipes I posted last year as well, because I like to revisit ones that may have been overlooked/ forgotten, and show different ways they can be utilized. Reduce, Reuse, Recycle, right?!?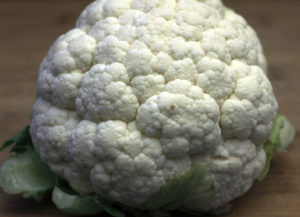 Cauliflower is a funny vegetable. On its own it's a bit… lacking. It's not bad, but its not great. It's not really anything. But because of this, it is perfect for molding into whatever you want it to be. Want a low calorie, low-carb alternative to white rice? Use cauliflower! Want the comfort of mac and cheese without the guilt? Use cauliflower! Want a big, delicious vegetable main dish that can hold up to grilling? Use cauliflower!Pizza crust, lasagna noodles, tortillas, breadsticks, and even bagels can be made from cauliflower. It's like the tofu of the produce department. Of all the things that can be done with this super versatile vegetable, though, this creamy, garlicky mash is my favorite. Or it's at least in my top 3. Definitely top 5.
This recipe is a great reason to try your hand at making your own ricotta. I promise it is way easier than you might think. It's basically just waiting for the milk to come to temperature, so it's perfect for putting on the stove while doing the washing up, prepping a salad for dinner, etc. I make it regularly, whenever I have some milk that needs to be used up. Give it a try! If you prefer to buy pre-made ricotta, there are multiple options available in the Perishables cooler.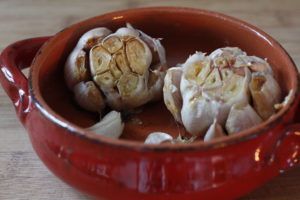 The other star of this recipe is roasted garlic. The recipe was posted as part of the "Alberta Co-op Basics" series I did, because I consider it to be a kitchen essential. It not only adds incredible flavor to just about everything you add it to, but it's a cinch to make and keeps well, to boot! I like to roast up several heads (typically 12 at a time in a ratty old muffin tin), squeeze out the cloves, and freeze them so I always have some on hand. If I don't have any premade, though, I get to fill my house with the smell of amazingness, which is another reason to try this recipe.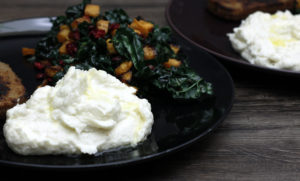 If you enjoy this dish, try playing around with other vegetables in place of the cauliflower. I've made it with butternut squash, garnet yams, peas, and more with great success. You could thin the mash with broth for a lovely creamy soup. Or replace the garlic oil with truffle oil for a hint of umami elegance. However you choose to make it, I have a feeling it will end up being a staple side in your kitchen as well as mine. Enjoy!
Bring a large pot of water to a boil and salt it until it tastes good. Add the cauliflower and cook until you can pierce it with a fork, 15-20 minutes. Drain it in a colander, then spread the cauliflower out on a paper towel to soak up extra moisture (you want it to be as dry as possible).

Working in batches, place the cauliflower in a food processor with the ricotta, butter, roasted garlic, garlic oil, 1/4 teaspoon pepper and 1 teaspoon salt and process until almost smooth but some chunks remain, 20-30 seconds. Season to taste with more salt and pepper.
Whether ricotta cheese is Paleo permitted is the subject of debate, so I have opted not to tag it as so. Depending on your personal rules, it very well could be!
This is a great reason to try your hand at making Homemade Ricotta!
I have not tried this with silken tofu "ricotta," but don't see why that couldn't be used (along with Earth Balance in place of butter) for a vegan version. If you try it, let us know how it turned out in the comments!
This would make a dreamy soup when thinned down with a few cups of broth. For a light but satisfying meal, serve it with a chunk of bread (spelt would be lovely) and drizzled with flavored oil and some crispy roasted garlic.