Recipe borrowed with permission from www.strongertogether.coop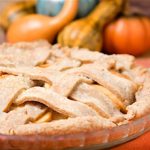 Servings

Prep Time

8

2

hours
Servings

Prep Time

8

2

hours
Servings

Prep Time

8

2

hours

Servings

Prep Time

8

2

hours
Pie Crust (yields two 9" pie crusts)
Mix flour and salt evenly in a medium sized mixing bowl. Chop shortening into chunks and cut into the salted flour, using a pastry cutter or two knives, one in each hand, in a scissors fashion. Chunks the size of small peas should remain. This will help make sure the crust is flaky.

Moisten dough a tablespoon of ice water at a time just until it holds together. It should still be crumbly, but stick together enough that you can mold it into a ball. Don't wet it too much or it will be tough.

Chill the dough in the refrigerator for 1/2 hour before rolling it out.
Wash, core and slice the apples evenly and place them into a mixing bowl. (It is fine to leave the skin on the apples---especially if they are organic; peel adds a nice texture.) Tip: Thinner slices cook faster and yield a moister filling. Check quantity needed by piling apple slices in empty pie pan. It should be heaped high.

Mix together sugar, tapioca flour, salt and cinnamon and dust over apple slices to coat evenly. If slices stick together, separate gently.
Remove pie crust from refrigerator, divide into two halves and roll out bottom crust on top of a sheet of baking parchment or waxed paper lightly dusted with flour to keep it from sticking. Using a rolling pin, roll the dough out from the center, rotating the paper to distribute it evenly. Lay pie pan lightly upside down on crust to check size (dough should be about 11" in diameter, or show a 1" margin all around the pan). When dough is big enough, center pie pan on crust and invert dough into the pan.

Fill the pan with the apple mixture, layering in the chunks of margarine and drizzling with maple syrup.

Roll out top crust on fresh sheet of floured parchment to about 9 1/2 inches in diameter and flip it on top of the filling. Seal the edges with your fingertips or a fork, and make slits in the top crust to release steam, and view the filling cooking. Or make a lattice top by cutting strips and weaving them in a criss-cross pattern over the top. Lattice tops are pretty and good for fruit pies.

Bake for approximately 1 hour. The filling should be bubbling in the middle, not just around the edges. Let cool, cut and serve.
Make Ahead Tip
Pie crust can be made, rolled out and frozen uncooked in the pie pan for use up to a month in advance. Place the pie and crust in a sealed plastic bag to prevent freezer burn. When ready to use, let thaw and gently re-seal any cracks that may have formed while dough was frozen.