Thank you for your patience and cooperation as we navigate this unpredictable situation collectively. For the most up-to-date info, please call 503-287-4333.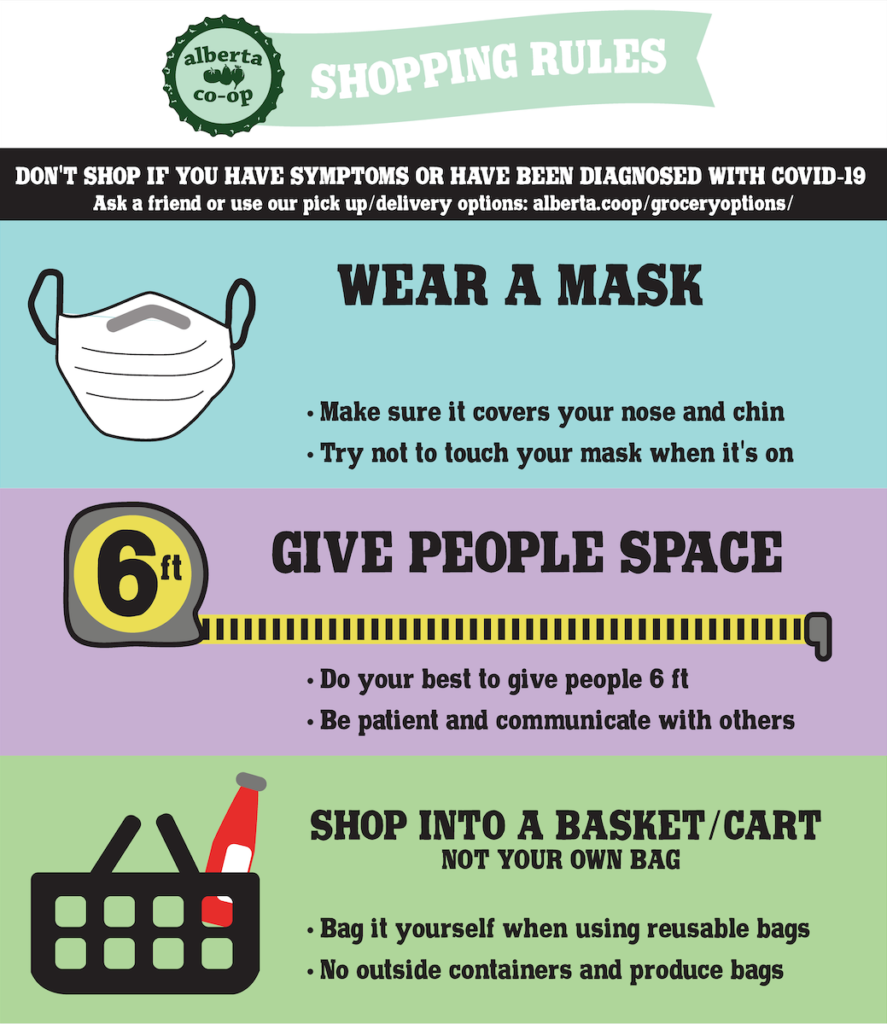 You will not be allowed to enter the store without a mask or face covering. This mask must cover your nose and mouth and be secured tightly.
For the safety of our workers and staff, only 10 people will be allowed in the store at a time for 20 minutes or less.
Wait until you are invited in by the door person to enter. If there is a line to shop, please be mindful of staying 6 feet apart from each other.
FAQs
Can I bring my reusable bag?

Yes, as long as it's clean and you bag the groceries yourself.
Can I bring in my bottle returns?

No, we are not accepting returns for sanitary reasons. However, we will allow you to return your glass milk jugs.
When is the best time of day to shop?

These past couple weeks, we've actually been very busy in the first hour that we open. If you are looking to shop with fewer people in the store, we suggest you avoid the 10-11 AM window and stop by in the afternoon.
I bought too much, can I return it?

Nope. All sales are final unless we made a mistake. Consider donating anything you no longer want to someone in need!
Can I place a special order or a case order?

No, at this time our supply chain is still too unpredictable to be able to guarantee any special orders.
Do you have ____?

Call 503-287-4333 to double-check our inventory before you come in!
SANITATION PROCEDURES
Alberta Co-op is taking the impacts of Coronavirus very seriously. We are monitoring the developments closely and will consider all recommended precautions to protect the health of our shoppers and staff. We are reminding employees to be vigilant about handwashing and are asking anyone with cold/flu symptoms to stay home. We're doing what we can to help everyone stay well!
Current sanitation procedures:
All workers wear a face covering and gloves
Counters and pin pads wiped down regularly with bleach
Baskets and carts are cleaned after each use
Door handles frequently sanitized. Plus, we automatically open the door for ya so you don't have to touch it!
HOW YOU CAN HELP
Wear a face covering
Be patient and kind
Limit shopping trips
Don't come in groups—choose one person from your household to be the designated shopper
Wash your hands or use hand sanitizer after entering
Bag your own groceries
Pay with card to limit cash handling
Only touch the products you are going to buy
Do not enter the store if you have been diagnosed with COVID-19 or exhibit any flu symptoms
DEPARTMENT UPDATES
PRODUCE
We will not have produce specials for the time being.
Salad mix and bulk spinach are now prepackaged and will remain so for the foreseeable future.
Please only touch the produce you are going to buy.
BULK
The bulk aisle is no longer self-service. For the time being, you can request goods at our bulk service counter. This table will be run by a knowledgable staff member that will fill 

your

order for you. Remember the 6 ft. rule! You know how small our store is—forming a line ain't gonna work. If you have a long list, no need to stand and wait. Feel free to do other shopping while 

your

 order is filled.

Self-serve coffee will no longer be available.

Nut butters, miso, etc have all been discontinued for the foreseeable future.
GROCERY
No more self-serve bagels or pastries.
Product limits per customer: 1 unit of toilet paper, 1 vinegar gallon, 1 bleach gallon.
WELLNESS
We have hand sanitizer!!! Check out Owl in a Towel or Suzi's!
RESOURCES
Portland Area Mutual Aid:
Portland Resources: 
The Portland Water Bureau will not disconnect water service for non-payment of sewer, stormwater and water bills. Learn about their financial assistance program.
Portland General Electric, Pacific Power and NW Natural will suspend late fees and shutoffs.
Comcast and Charter are offering free internet access to eligible households, among other measures, to help people stay connected.
The People of Color caucus in the Oregon House listed resources for small businesses, including from Workshare, Business Oregon, and the Oregon Employment Department.
Oregon Center for Public Policy suggested changes to Oregon's Unemployment Insurance for people with employment losses due to COVID-19.
Local foundations, led by Oregon Community Foundation, have created a COVID-19 Pooled Fund to provide urgent funding to community organizations providing direct services to people impacted by COVID-19.
Volunteer at places that serve the vulnerable, such as Meals on Wheels for the elderly, or Rahab Sisters and Human Solutions for the homeless. Visit the Portland-area volunteer support website for more options.
Schedule an appointment to donate blood at Red Cross. They need blood after canceling work and school-based blood drives.
Combat racism wherever you see it, such as racist attacks against Asian students. Support businesses in Chinatown and the Jade District, which have suffered a disproportionate hit.
Anti-stigma Resources for Oregon
Support Portland restaurants that offer takeout and delivery during COVID.
Where to Donate: