April 5, 2020
Wow, what a month it's been! Though the Board is maintaining social distance as much as anyone, and therefore moving our monthly meeting online, we're still excited to connect and cooperate!
Every year at this time, we start accepting applications for candidacy for annual Board elections. You may not see us at the store as often, but your current Board of Directors are as available as ever to answer your questions about Board service – just email us!
Additionally, this unusual time in history provides new opportunities to serve in a Working Owner capacity. Whether or not you have the ability to serve in person, if you're interested in how you can help, please contact Cecca with the Owner Linkage Committee.
March 16, 2020
The main thing to note today is that our regularly scheduled Happy Hour will not be happening this week. Much as we long for that face-to-face connection with the ownership year round, the current public health concern and social-distancing measures that come with it are more important. We hope to see you in April!
For other co-op updates, please sign up for ACG's newsletter, Pickles Press, and check out the store's social media pages @alberta_coop!
March 6, 2020
I thought that'd I'd updated our little blog here about the last Happy Hour, but it looks like the post didn't stick! So here's your notice that we're doing it again on Thursday, March 19 – same time and place, 5-7 PM at the Bye and Bye at NE 10th & Alberta! Come say hi!
In the meantime, the board has been talking a lot about strategic planning, and how best to act on our mission with the strength and momentum we have at this time. It's ultimately the store management's job to decide how things get done, but we're in this to cooperate, amirite?!
January 17, 2020
Well, the meet-up I mentioned below happened last night – we indeed put out the word via the Pickles Press newsletter, but failed to update this blog! Alas!
No worries if you missed it — the OLC is planning more meet-ups in months to come. We'll be hanging out on the third Thursdays of February (2/20) and March (3/19) at the Bye and Bye. It's a great neighborhood bar just five blocks from our store, at 1011 NE Alberta. We'll be there for 5-7 happy hour, and would love to meet you!
There's also another collaboration coming up with Conscious Comedy, to raise money for our non-profit neighbors at the Community Cycling Center. Stay tuned to this and other ACG outlets for those details.
In other news, recent board meetings have included several ongoing conversations that you may be interested in. Our Working Owner program has been at a bit of a stand-still in recent years, as we weigh certain legal factors and other coops' experiences against our own. We're looking to develop new opportunities for participation, and are eager to hear from owners with strong feelings about the program. We've also been discussing the Board's role in strategic planning.
As always, our monthly meetings are open to the public and there is always space in the agenda for owner comment. We serve to represent you, but you are entitled to speak up! Board meetings are held from 6-9 on the first Tuesday of each month at the Church of Salt and Light on 20th & Killingsworth.
December 19, 2019
The Conscious Comedy event was a lot of fun, and we look forward to doing more! Stay tuned for the next one, probably happening in March.
In the meantime, the Owner Linkage Committee (OLC) is planning a casual meet-up at a neighborhood bar in January. The details aren't settled just yet, but again – stay tuned! We'll send out word in the store's weekly e-news (Pickles Press) as well as posting here on the Board's page.
November 27, 2019
The ACG Board of Directors has several committees responsible for the different kinds of work that we do. One of those, the Community Engagement Committee (or CEC), works with other organizations in our community to meet shared goals. This month, in cooperation with the Northeast Coalition of Neighborhoods and Conscious Comedy, we're putting together an event to raise money and awareness for Right 2 Dream Too, a volunteer-run shelter in North Portland that's been offering houseless folks a safe place to sleep since 2011. There will be by-donation bites courtesy of Snackrilege, Gem gluten-free bakery, and Reverend Nat's.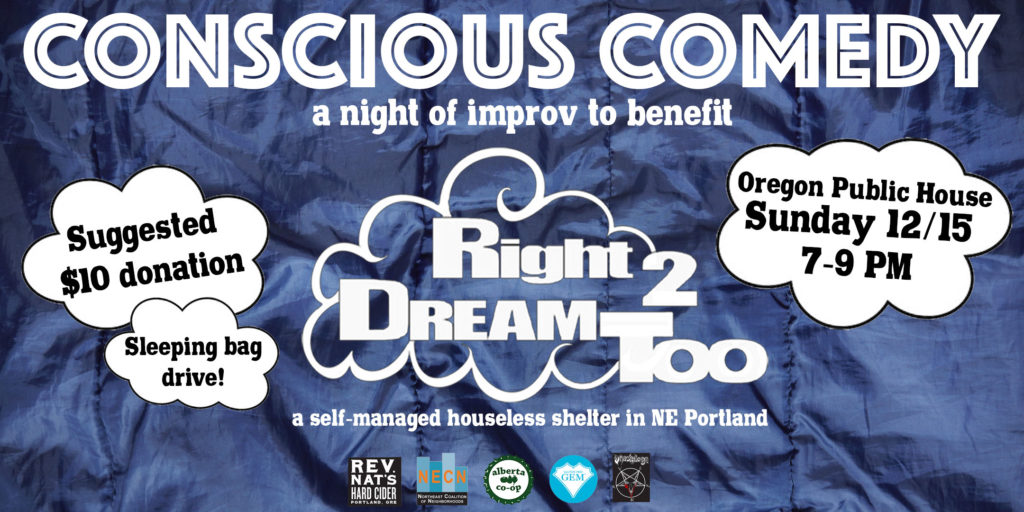 Conscious Comedy will happen Sunday, December 15 at 7:00 PM at the Oregon Public House, 700 NE Dekum St. We hope you can make it!