Ingredient: chicken stock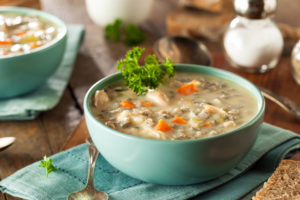 Recipe borrowed with permission from www.strongertogether.coop where you can learn more about your food and where it comes from.
This sweet and savory dish with accents of pecan and goat cheese is a lovely accompaniment for pork or poultry. Add leftover turkey or chorizo to make a hash for breakfast or a quick and tasty supper.
Chicken cacciatore is Italian for "hunter's chicken," and it's a classic, simple way to prepare poultry. This version has added vegetables and makes use of inexpensive leg pieces, which stew to tender perfection in the slow-cooker. Serving the flavorful sauce over brown rice stretches the meat, and makes use of every drop of chicken-y goodness.